ANOTHER KIND OF SATHYA SAI HANKY-PANKY
Date: 06-02-06
By Robert Priddy
The incredibly boring endless video from the Sai authorities on the Christmas Celebrations 2005 concentrated again and again on the almost inanimate form of the personality cult hero himself, the 'Form of the Divine', as he likes to style himself. When at infrequent intervals his form 'came to life' as it were, - devotees were delighted by the auspicious scene of Divine nose-blowing, sweat-swabbing and spit-removal. One should not take this too lightly, as there really and truly are those who would most certainly lick up the sputum of this Divine Form at any opportunity, not just figuratively but physically too! One would hope that he doesn't have anything that's catching! He does show the symptoms of a health problem involving his respiratory system, judging by all the hanky work on all occasions.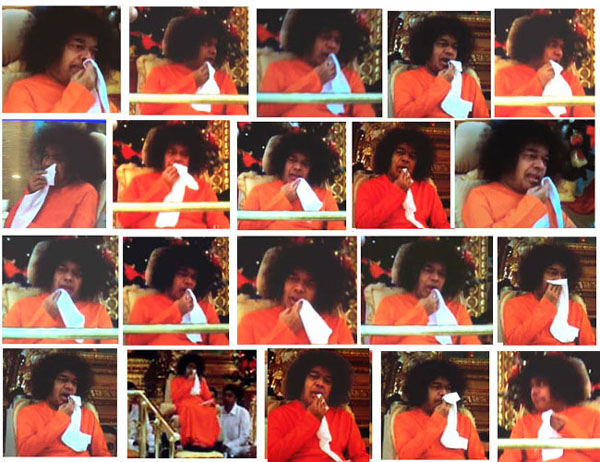 Anyone who has been to a number of darshans or interviews knows well that a most coveted item of Sai Baba's 'possessions' is his one of his 'omnipresent' handkerchiefs. He has a store of them near him at any time, and uses them frequently, both to wipe ash from his fingers and regularly to clean other items from his nose and mouth. Many devotees, especially women, ask him outright for his holy noserag... and he flings them to the lucky, blessed persons of his choice. They treasure them and put them on their shrines for worship (puja)! One must suppose that a clean Sai-hanky is far less auspicious than a dirtied one, for then one has the excretions, even the DNA of the Living God!
Another use to which Sai Baba reportedly puts his hankies is to wipe off the sperm from penises after ejaculation. This is reported by several of those brave whistle-blowers who have stood forth with their accounts of his sex abuses against them. It is even suggested that this is a Tantric ritual, the saving of sperm, for ritual purposes connected with spirits and other dark matters. Knowing the range of vile practices of many Indian tantrics, certain Shiva and Kali priests and various supposed 'holy men', as documented widely by such recognised experts as Mircea Eliade (see his huge monograph 'Yoga, Immortality and Death'), this and related 'black magic' is part of the Indian belief system.
Please note, the Christmas video is also where a young man puts his face into Sathya Sai's crotch and holds it there for 30 seconds while Baba fiddles with a locket and chain to attach it! Most revealing - the literature makes clear that such veiled exhibitionism has long been recorded as typical of the daring behavior of some closet homosexuals who want to flaunt in a subtle manner their sexual dominance to others who can recognise the implication. See the account of this and the video clip (Click here) This is doubtless why Sathya Sai is on record for having said in a discourse in the earlier years that everyone in the world is a female in relation to him! Further, some followers think that he is too old for sexual activity anyhow, but they forget that Picasso married around 90 years of age and that men of over 100 have had offspring. How sexual satisfaction is had despite a wrecked hip joint can be imagined by watching the video and reading the precise accounts in several of the major allegations made against him, not a single one of which has ever been withdrawn or disproven!